Our craft and skill doesn't just start and finish with your window. Our talented team are inspired by the latest interior trends of amazing collections available to us, and we want to provide this inspiration to you too. A simple window stop shop we are not!
Our passion is to provide and create beautiful pieces and spaces beyond the window. You can truly complete your home and room with our choice of wallpaper, upholstery fabric, cushions, beanbags, new outdoor cushions by the pool. We source the latest fabrics for drapery to upholstery, through to the latest in wallpaper collections; how far you decorate is up to you.
A bedroom is transformed with a beautiful wallpaper, co-ordinated carefully with an upholstered buttoned bedhead, complete with scatter cushions galore; we consider every element of your room and home.
We're not about mass production; every piece is completed in our workroom is carefully constructed and not an inch of fabric is wasted; there's a purpose for everything. We truly believe in slow fashion. We also believe in one-of-a-kind creations; we design specifically for you; you won't see anyone else with the same piece.
We relish in is transforming a loved possession that's falling apart at the seams, dusty, old, and ready for the tip. We see beyond the old; we see something special that can be bought back to life. Nana's rocker or Grandpa's armchair may be 100 years old and the fabric saggy and baggy, Caitlin, our qualified upholsterer, loves to transform a treasured furniture piece into something spectacular again – a piece that will take pride of place in your home.
Let's get creative in adding further colour, inspiration and beauty to your home.
Custom headboards in all shapes and sizes, covered with beautiful fabric
Luxurious cushions for your sofa, bed or wherever you like to recline in comfort
Outdoor cushions for your outdoor furniture made with UV-protected fabric
Upholstered furniture including chairs, ottomans, foot stools and bean bags
We can also source wallpaper from our Australian and international suppliers.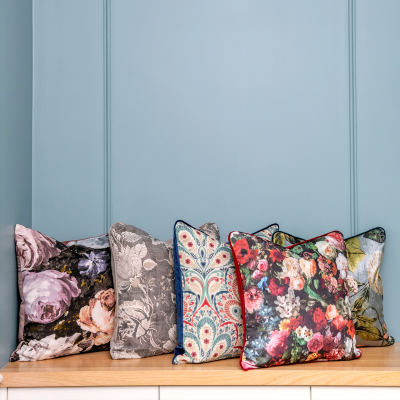 Custom Cushions
You can never have too many! Luckily we have the most beautiful and extensive fabric collections. Our custom cushions, handcrafted in our skilled workroom, we can tailor-make cushions of any shape or size. Perfect to add colour and comfort to your bedroom, lounge or wherever you love to recline.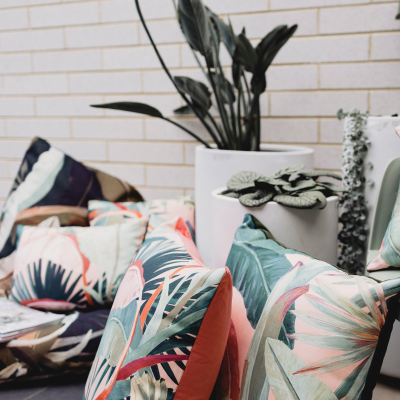 Outdoor decor
There are outdoor cushions and then there are our outdoor cushions. Custom made from specialised outdoor fabric designed to cope with the Australian sun, our outdoor cushions and beanbags will stand up to the elements unlike other promised products on the market.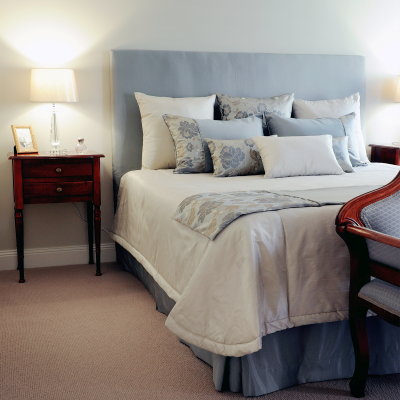 Bedheads
As with our cushions, you're again spoilt for choice with the abundance of beautiful fabric on hand. Any shape or size, we design and customise our bedheads to suit your bed and room specifically. Nothing off the shelf from our workroom!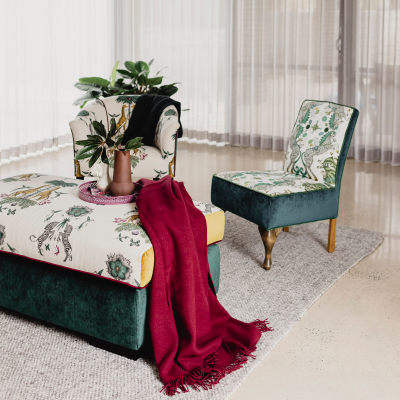 Upholstery
Our specialised upholsterer can work her magic to bring a once-loved piece back to life. With so many beautiful inspirational fabrics on hand, a once-faded old piece can again take centre stage at home.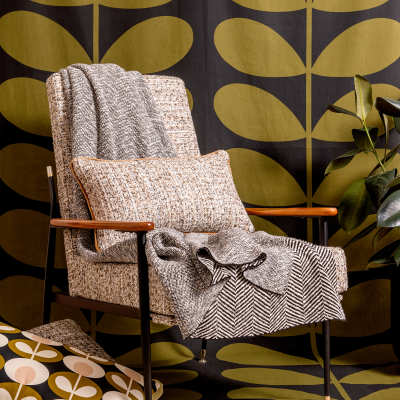 Bespoke furnishings
In need of an ottoman, beanbag, foot stool or lampshade? Custom made to any shape or size, we've the right fabric to suit your room and purpose.
Wallpaper